Each year we compile a quiz concerning events in law and religion during the preceding twelve months, many of which have featured in our posts. The Answers to the 2018 Boxing Day Quiz, for which we included a cryptic clue to Q 17, are given below. Questions for this year's quiz are already in preparation. 
1. What age would you assign to the adjectives "notable", "veteran" and "ancient", and in what context would you use them?
The Ancient Yew Group has three categories of yew, according to their age – "notable" (300 to 700 years old); "veteran" (500 to 1200 years old); and "ancient" (at least 800 years old). The overlap between the categories reflects the fact that the age of particular trees is often being reassessed, usually upwards. See Re St. Philip and St. James Whittington [2017] Ecc Wor 1.  
2. Name five of the twenty five Flag Flying Days 2018, when the Union Flag is to be flown on UK government buildings. As a supplementary, when is the European Flag to be flown, if at all?
Dates for flying the Union Flag on UK government buildings in 2018 are to be found here.  Where the European flag is flown, the Union Flag should fly alongside the European flag and, on UK government buildings that only have one flagpole, the Union Flag should take precedence.
Bonus for recognizing that the European Flag has been adopted by both the Council of Europe (9 December 1955) and by the European Community: In 1983 the European Parliament adopted the flag devised by the Council of Europe and recommended that it become the European Communities' emblem. The European Council gave its approval in June 1985. The European Union's institutions began to use the flag in 1986.
3. What has David Gauke MP in common with David Lloyd George
Both are solicitors; David Gauke was the first Solicitor to be Lord Chancellor; Prime Minister David Lloyd George was also a solicitor.
4. Which of the following are the names of real parish churches? St Ignatius, Hendon; St Maxentius, Bradshaw; St. Mary the Virgin Wotton-under-Edge with Ozleworth; St. Alphege, Seasalter; and St. Mary the Virgin Walsham Willows?
All of them!
5. What in 2018 had something been down for longer than it had been up.
On 5th February 2018: Berlin Wall.
6. Which two parliamentarians went into the Chapel of St Mary, Undercroft, in the Palace of Westminster, late at night armed with an electric drill; and why?
Jeremy Corbyn and Tony Benn, here, to put up a plaque to honour suffragette Emily Wilding Davison, inside a broom cupboard where Davison famously hid for a night in 1911 so that she could record the palace of Westminster as her place of residence on census night.  
7. What is referred to as the MoHoCoLoGo?
"People referred to the new name of the department. In fact, it is now a ministry—the Ministry of Housing, Communities and Local Government, or MoHoCoLoGo, as I am told it is being called in the corridors of power. It makes us sound like a Mexican nightclub", Lord Bourne of Aberystwyth [HL Hansard 11 January Vol 788 Col 345
8. What links Lord Keen with Fr Jack Hackett? [Clue: it's not I Hansard]
The Rt Hon Lord Keen of Elie QC, HM Advocate General for Scotland and MoJ spokesperson for the Lords is reported to have blurted out 'arse' in chamber after spilling glass of water during Brexit debate.
9. What links the following: Blockley; St Fagans; Kirkdale; Adlestrop; Bristol; Bath Abbey; Rosslyn Chapel?
They all feature in our reviews of consistory court judgments in 2018.
10. What have the following in common: HRH The Duchess of Cornwall; Blessed Virgin Mary; Battle of Britain; Judges; London Mayors?
These are all recognized at Westminster Abbey by bellringing days.
11. Who said: "I am to PowerPoint what King Herod was to childminding."
The Bishop of Chelmsford, apologising for his "Neanderthal" PowerPoint skills while addressing a cathedral conference,
12. We were told that we should envy sea horses – why?
Adjournment Debate – Seahorses: Illegal Trade in the UK, [HC Hansard  6 December 2018, Vol 650, Col 1213]. Opening the debate, Sir Hugo Swire (East Devon) (Con), said:
 "And now for something completely different. I had hoped that more colleagues would have wanted to stay for this important debate and would, in fact, be rather envious of seahorses, who go about their business at the bottom of the ocean completely ignorant, perhaps, of regulatory borders, backstops and barriers to trade. Perhaps they have never even heard of Brexit or the withdrawal Bill; we must envy them in that respect".
13. Who is Lloyd Russell-Moyle?
On 10 December 2018, as the government formally declared it would not continue with the debate on the withdrawal agreement, Lloyd Russell-Moyle (Labour (Coop), Brighton, Kemptown) grabbed the mace in protest and held it up in the centre of the chamber to widespread outrage from the Tory benches.
14. Who played Yoda form Star Wars in December 2018
It was reported that Lady Hale, president of @UKSupremeCourt, was to appear in @HonSocGraysInn's annual Miscellany as Yoda from Star Wars…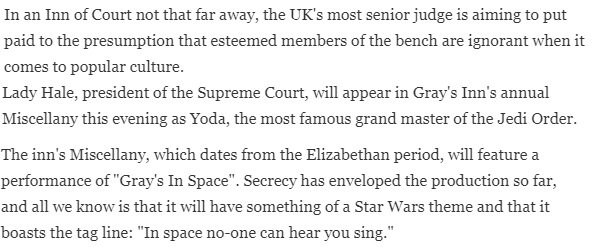 15. Is Voldemort protected by the Human Rights Act?
Possibly not. Lawyer Adam Wagner commented "You have to be a "victim" to bring proceedings and that means someone who is protected by the European Convention on Human Rights" and "I am not a Harry Potter expert but my understanding is that he doesn't have a body for a the first few books, but is he alive?"
16. What links the following and what should be added: Crimond; Fern Bank;
Liverpool; Lloyd; October; Old Foster; Pentonville; Shaw Lane; Sweet Chiming Bells?
They are all tunes for "While Shepherds Watched their Flocks by Night" which is generally sung to the Winchester Old, or in more enlightened churches, to Cranbrook or Lyngham. [Source: Worrall Male Voice Choir, The Joy of Christmas.]
17. What do the following churches in Venice have in common? San Nicolo dei Mendicoli; San Lazzaro dei Mendicanti; Basilica di San Giovanni e Paolo, a.k.a. San Zanipolo; Santa Maria dei Miracoli; San Stae.
Whilst it might appear as though they are churches managed by Chorus Venezia only two of these are. They are in fact all locations for Nicolas Roeg's cult film  "Don't Look Now" (1973), by Nicholas Roeg who died this year on 23 November 2018, aged 90; followed by Italian film director, Bernardo Bertolucci, who died on November 27 at the age of 77.